KEYNOTE SPEAKING & INTERACTIVE PRESENTATIONS
Priti Coles is a lively and humorous speaker and motivator.
Her enthusiasm for letting people discover their own performance-power gets even shy audience members active and participating. She creates a unique experience, applying her expertise to what she is passionate about – encouraging physical presence, stimulating clear, inspiring speaking and above all revealing how true, authentic performance will make you shine not only on stage but in any situation.

VIDEO
EXCERPTS FROM THE INTERACTIVE TALK/PRESENTATION:
BE SEEN, BE HEARD, BE REAL! + LIVE FEEDBACK
Be seen, be heard, be real - Priti Coles - Keynote from chiwa media:: on Vimeo.

BE SEEN, BE HEARD, BE REAL!
An interactive Presentation/Workshop:

Develop professional performance polish for your communication: discover your vocal potential and experience a taste of what it means to get ´´present and connected´´; practice simple body, breath and voice exercises and gain insight into performer´s secrets in a non-challenging situation. 
This is a unique opportunity to gain individual charisma, vocal presence and authenticity, as well as experience a sense of well-being. Priti Coles' lively approach really coaxes people to join in. She is tri-lingual and can give her talks in her native English, German or Dutch. This refreshing new look at voice, speech and communication is a winner. Take it from a true trouper: for really inspiring speaking:  Be seen, be heard, be real!.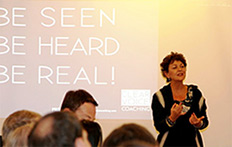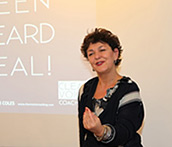 PRITI COLES AS A KEYNOTE SPEAKER - TESTIMONIALS
Katja Tautscher - General Counsel - Legal Department - Borealis Group:
Priti Coles´ sparkling personality and simple, hands on approach made her talk ''be seen, be heard, be real'' an absolute highlight of our international legal-department meeting. We were a mixed group but she got us all joining in the fun exercises without exception. All nationalities, ages and mind sets were motivated and inspired; a really refreshing way to end our conference!
Julian Walton - Chairman-Austro-British Chamber Vienna/CEO Eurowatch:
...a lively, fun approach paired with in depth knowledge and expertise on the voice and physical presence in an easy to follow, succinct format. Our Austro-BritishChamber business breakfast with Priti Coles (WKO Vienna 2011) was not only entertaining and motivating but also very useful; her comprehensive exercises can be taken home and immediately applied in everyday situations. This workshop-talk was a joy to listen to and participate in. I can recommend it to any company or group interested in the art of speaking and developing more presence, clarity and authenticity.
Meghla El Haque, WCN Vienna Co-President.
A charismatic and erudite speaker with a natural flair for presenting inter-active materials, Priti effortlessly manages to draw in the audience and get them to relax and find resonance with her presentation.